THE ONE BOX SOLUTION
---
FOR RIM PANIC EXIT DEVICES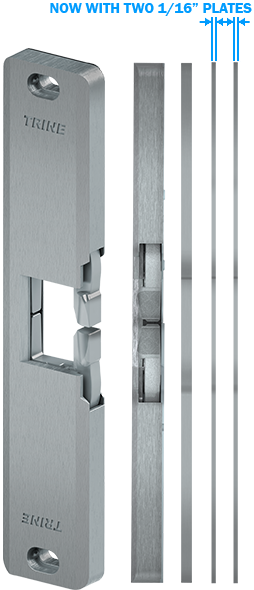 Both Spacers Included.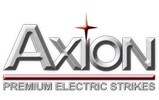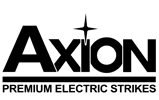 4850
1/2" Surface mounted strike for Rim Panic Devices.
Flexible electric strike for use with surface mounted rim exit devices with up to 1" throw.
Need a fire rated surface mount strike you can install every day? Use the 4800F
4850 Features:
1/2" thick Surface Mount that comes with a 1/4" and a 1/8" Spacer -- this provides the flexibility of up to 4 different sizes!
Cavity is completely open -- which means the 4850 allows for an incremental depth up to a 1" throw -- competitor backplates do not allow for this versatility.
Built-in electronics automatically allow 11 thru 28 DC Voltage input -- with surge and kickback protection
Comes with Trines Patented 6-Pin Anchoring System
Contains a one piece locking mechanism with one Solenoid -- less parts mean less problems.
Fail-safe/Fail-secure (field selectable).
BHMA Grade 1 Electric Strike -- 1,000,000+ Life cycles -- 1,500+ lbs. Holding Force
No cutting or worrying about voltage means you are always prepared.
Low Current Draw Available 4850PoE for 12DC and 4850LCD for 24DC
For a fire rated rim panic strike use the 4800F
4850 Electrical Characteristics:
"DC Plug and Play"
Voltage


(DC Only)

Pull In/Holding
Current/Amps
Duty
Sound
12DC
0.500 / 0.178
Intm./Cont.
Silent
16DC
0.385 / 0.131
Intm./Cont.
Silent
24DC
0.255 / 0.084
Intm./Cont.
Silent
4850 Available Finishes
4850-32D


Satin Stainless Steel - BHMA630

4850-10B


Dark Bronze - BHMA613

4850-US3


Bright Brass -- BHMA605

4850-US4


Satin Brass -- BHMA606

4850-10


Satin Bronze -- BHMA612

4850-32


Stainless Steel -- BHMA651
---
4850LB:
Need latchbolt monitoring for your Axion 4850 go to the
⇒ 4800 Series Accessories Page
---
4800-SS & 4850-SS - Extra Steel Spacer Plates:
We supply an 1/8" thick spacer plate for those installations that require mounting the strike closer to the panic bar. In addition, the spacer plates can be used as a template during installation. This is especially helpful when installing Trines patented anchoring system. You can order an additional 1/4" Spacer plate with part # 4850-SS or 1/8" Spacer plate with part number 4800-SS. Note that 4850 Strike comes with both a 1/8" and a 1/4" plate already.
---
| Fits in Tight Installs like Glass. | Smart Plug & Play Self Adjusting 11V through 28V DC Surge & Kickback Protection included. | Install Securely with our Patented Anchor Pin System |
| --- | --- | --- |
| | | |