Print Friendly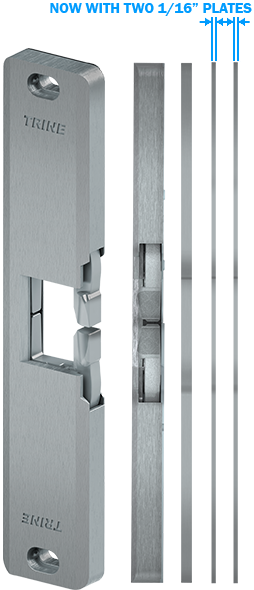 Low Current Draw ™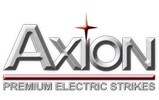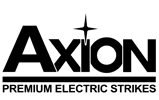 The Low Current Draw 4850PoE
.260 Amp Surface mounted strike for Rim Panic Devices.
This low current draw strike is perfect for PoE environments and even better for every day access control system installations. The lower current draw allows for a smaller power supply which saves you money.
4850-PoE Features:
Power over Ethernet (PoE) systems are growing more popular, be prepared!
.260 Amps @ 12DC uses 3.12 Watts.
Reduce the number of installations that need a separate power supply for door hardware or add more devices to your system.
Increase UPS up time due to lower current draw.
1/2" thick Surface Mount that comes with a 1/4" and a 1/8" Spacer -- this provides the flexibility of up to 4 different sizes!
Cavity is completely open -- which means the 4850 allows for an incremental depth up to a 1" throw -- competitor backplates do not allow for this versatility.
Comes with Trines Patented 6-Pin Anchoring System. more info ->
Contains a one piece locking mechanism with one Solenoid -- less parts mean less problems.
Fail-safe/Fail-secure (field selectable).
Grade 1 Electric Strike -- 1,000,000+ Life cycles -- 1,500+ lbs. Holding Force
No cutting of the frame.
4850-PoE Electrical Characteristics: ™
| Voltage | Amps | Watts | Duty | Sound |
| --- | --- | --- | --- | --- |
| 12DC (only) | 0.260 | 3.12 | Intm./Cont. | Silent |
4850-PoE Available Finishes
4850POE-32D


Satin Stainless Steel - BHMA630

4850POE-10B


Dark Bronze - BHMA613
4850PoE-10B finish is discontinued - please use 4850PoE-DKBZ

4850POE-US3


Bright Brass -- BHMA605

4850POE-US4


Satin Brass -- BHMA606

4850POE-10


Satin Bronze -- BHMA612

4850POE-32


Stainless Steel -- BHMA651

4850POE-DKBZ


Dark Bronze Powder Coat
---
4850PoELB:
Need latchbolt monitoring for your Axion 4850PoE go to the
⇒ 4800 Series Accessories Page
---
4800-SS & 4850-SS - Extra Steel Spacer Plates:
We supply an 1/8" thick spacer plate for those installations that require mounting the strike closer to the panic bar. In addition, the spacer plates can be used as a template during installation. This is especially helpful when installing Trines patented anchoring system. You can order an additional 1/4" Spacer plate with part # 4850-SS or 1/8" Spacer plate with part number 4800-SS. Note that 4850 Strike comes with both a 1/8" and a 1/4" plate already.
---
| Fits in Tight Installs like Glass. | Install Securely with our Patented Anchor Pin System |
| --- | --- |
| | |